Wales & West Housing Group is developing 14 innovative new homes in Bridgend capable of generating and storing their own energy.
The new homes are a mix of 1-bedroom apartments and 2 and 4 bedroom houses. They look and feel similar to any other new home, but these homes use cutting edge technology to reduce the amount of energy and carbon that is used.  We're hoping that the new residents of these homes will benefit from much lower energy bills, potentially as much as 80% lower.
Each home has a range of innovative features including:
Factory-built frames that are highly insulated, air-tight and fitted with efficient double-glazed windows and doors.
Photovoltaic panels/solar panels cover the south side of the roofs, generating electricity for the home that can be used during the day or stored in a powerful Tesla lithium battery for the evenings. Any electricity not used in the home will provide clean, renewable energy back to the grid.
Highly efficient electric heat pumps that provide heating and hot water and are cheap to run. A mechanical ventilation system helps to warm and filter the air, gently moving clean air through the home.
The homes will help meet the Welsh Government's ambition of achieving low carbon housing by 2025 and net zero carbon by 2050. If Rhiw Cefn is successful, the designs could be replicated in other homes in the future to contribute to a low carbon strategy.
Designed by Zenergy Ltd, these homes follow the design of the innovative Solcer House at Stormy Down near Bridgend and are being built by our long-term construction partners Jehu Construction.
The scheme is supported by funding from the Welsh Government's three-year Innovative Housing Programme, which aims to accelerate innovation in the construction, design and delivery of new homes.
Work started on site in summer 2019 and is due for completion in 2020/2021.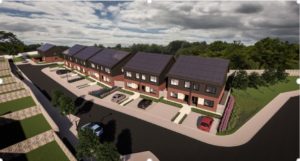 Who should I contact regarding the development?
FAQs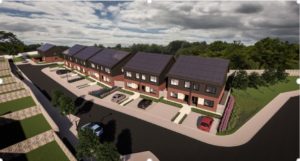 Who should I contact regarding the development?